Company Profile
---
In the year 1993, Kirloskar Brothers Ltd (world leaders in Pumps and Hydraulics) entered into License agreement with Corrocoat Ltd., U.K (world leaders and pioneers in Glass flake filled technology coatings) for Anti-corrosion Products. The Division was engaged in carrying out application of anti-corrosion coatings with products imported from Corrocoat Ltd., U.K. In 1997, with growing demands coating manufacturing was started in India at Kirloskarvadi. From April 2006 this association has communed in-to a joint venture company.
Today after more than 30 years of successful track record, Kirloskar Corrocoat Private Limited has emerged as a first choice solution provider to the Industry in the field of Long term corrosion protection and Energy conservation.
Core Strengths
---
Latest Technology available through JV
Pump energy efficiency coatings
Sea water application
Single point Solution Provider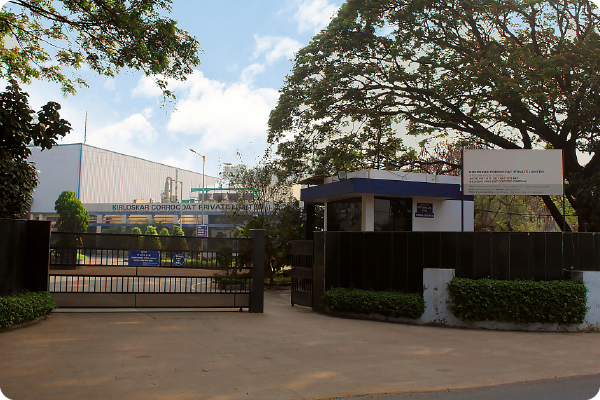 Principal Products and Services:
---
KCPL is an ISO 9001:2015, ISO 14001:2015, and ISO 45001:2018 certified organization devoted for manufacturing a variety of Glass flake filled coating formulations specially designed and developed to give peak performance of the Assets with unique aim to integrate productivity and profit.
We manufacture coatings in a modern production facility at Kirloskarvadi. We are fully equipped to execute coating supply plus application work with latest in-house technology / facility at Kirloskarvadi. At the same time we are one step ahead with our readiness to extend all facilities required for execution at the customer location wherein customer gets major relief on the logistic front.
We manufacture a vast variety of glass flake filled coating formulations based on epoxy, Iso-phthalic polyester, polyester, vinyl ester etc.
Broad classification of our product range is as follows
Corroglass Series : for Pump, Valves Coating & Refurbishment purpose
Polyglass Series : for Internal of Pipelines and Vessels Coating
Plasmet Series : for External of Structures, Pipelines, and Vessels Coating
Fluiglide Series : for Energy Conservation / Energy Efficient coating of Pumps
Our specially designed coating formulation for Pump internals has recognition as the best long-term solution for corrosion protection plus Energy conservation (i.e. to improve the efficiency over and above already achieved thereby giving substantial saving in energy costs.) By use of these coatings the efficiency of the new Pumps can be improved from 1% to 3% depending on the type of Pump and specific speed. The ROI on these coatings due to energy savings is less than 6 months. We offer state of the art Pump refurbishment solutions where in one can bring back the old used Pump performance very close to its original designed one. In case of old used Pumps the improvement in efficiency due to refurbishment plus coatings can be in the range of 4% to 12 %. The payback period is between 3 and 6 months.
We provide One stop Solution
We manufacture, we supply as well as we apply the coatings there by giving one-stop solution to our customers. With the help of our state-of-the-art formulations designed to offer peak performance in the industry further backed with our trained / experienced manpower we have emerged as the first choice solution provider in the industry.
Vision
---
Kirloskar Corrocoat Private Limited aims to be a strategic partner of our customers in improving life cycle and performance of their Equipments.
We will grow through:
Better understanding of customer needs and expectations.
Exploring new applications and innovative technologies.
Sharing our success with our stake holders including our employees.
Mission
---
Kirloskar Corrocoat Private Limited is committed to conserve resources by providing reliable, innovative and cost effective solutions in corrosion protection and energy conservation
IMS Policy
---
CSR Policy
---
ISO Certificate
---